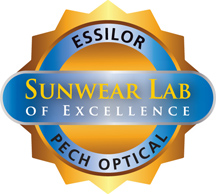 We are pleased to announce that Pech Optical has been selected by Essilor Labs as its first-ever Sunwear Lab of Excellence recipient. The designation recognizes Pech Optical as one of the industry leaders characterized by cutting-edge technology, an exhaustive knowledge of sunwear, superior customer service and product quality.
With more than two decades of experience, state-of-the-art technology and exceptional production skills, eye care professionals can serve their patients with the confidence that the job will be done right the first time. In addition, other labs and manufacturers can depend on Pech Optical for complex sunwear jobs and requests they are unable to complete themselves. Pech has leveraged the family-oriented values it was founded on to promote better business values throughout the industry and among its nearly 200 employees.
We can proudly say that we are known for our innovative approach to difficult sunwear jobs, including high base curves, large lens sizes and complex beveled edges typically featured in popular designer and sport frames. Put simply, given the challenging jobs Pech routinely handles, it's easy for us to deliver extraordinary results for the average day-to-day needs of our customers!
We are very excited and humbled by this recognition, and on behalf of the entire Pech Optical team, I commit to provide you – our valued customers – the highest quality of lab service to support the needs of your practice!
Sincerely,
Gerald Koolstra
President
800-831-2352 ext 517
Gerald@pech.com

---